Congratulations to Ukraine for winning the music
something (don't remember the name)

04.05.2022: Zelenskyjs speach to the Danish People
Today you mark the anniversary of what was once your dream.

It was your dream of freedom and peace. That dream came true.
On this day ended the five long years in which your country was occupied by the Nazis. They lost and freedom won. Life won.
The Danes and the whole world cheered and hoped that this cruel war would be the last war and that no one would want to break the peace again. The hope was that one would never again experience that feeling of danger to life, and that one had put the militaristic habits behind one.
That we would not again need blackouts to hide from bombs. That the air alarm would never go off again to warn us of real dangers. That it should only sound once a year to mark the war of the past. But now the war is here again.
It takes place here and now in Ukraine. It is not just going away, and it has already become as brutal as the war we mark the end of every year in May. When I spoke to you and to Parliament on the 34th day of Russia's full-blown invasion, I said that Russia had fired 1,370 missiles.
Now 1,993 missiles have been used against us. Imagine how many lives these missiles have taken. Most of them have hit non-military targets. On March 29, I said that the Russian occupying force had destroyed 773 educational institutions in our country. Today, that number has doubled.
These are kindergartens, schools and universities. This is the kind of goal the Russian army is fighting against in Ukraine. The occupying forces have already killed 220 children. We do not know the situation in the occupied territories and do not know what is going on there.
When I last spoke to you, the number of children killed was 144. You can see how the number is rising. Back then it was 144 children, now it is 220 children who have been killed.
They were not allowed to experience what life is like at all.
The Russian state is not prepared to stop the war. It dreams of conquering Ukraine and other European countries. It still dreams that freedom in Europe will disappear.
But those dreams are not allowed to come true. The dream of peace will come true.
Your dream and our dream, just like it happened 77 years ago. It is right now in Ukraine that the future of our continent is being decided. Whether not only we, but also our neighbors, all of us, should live in peace. Evil knows no borders, tyranny does not just occupy a single country.
You are already helping us in our struggle, and we are grateful for that.
We are fighting with weapons and with your support for us to achieve EU membership, with your honesty on the issue of sanctions and with the sincerity you are showing our people.
We see Ukrainian flags waving in your streets and squares, and it shows that you are fully aware of what is going on.
No one knows how many days this war triggered by the Russian aggression will continue, but I think our day of liberation is approaching.
Just as I am now speaking to your people as you mark the anniversary of the liberation of your country, I believe that representatives of your country will one day speak to the Ukrainian people as we mark the anniversary of peace with us.
Like every year on this day, you light candles to commemorate your victory over evil, and as you do so this year, I would ask you to send a thought to the Ukrainian children, the 220 children whose lives have been taken by this war.
Keep in mind that Europe is capable of putting an end to what cost these children their lives.
Never let that happen again.
Thank you to each and every one of you.
Thank you, Denmark.
Honor to Ukraine.

I dag markerer I årsdagen for det, der engang var jeres drøm.

Det var jeres drøm om frihed og fred. Den drøm gik i opfyldelse.

På denne dag sluttede de fem lange år, hvor jeres land var besat af nazisterne. De tabte, og friheden vandt. Livet vandt.

Danskerne og hele verden jublede og håbede, at denne grusomme krig ville blive den sidste krig, og at ingen ville ønske at bryde freden igen. Håbet var, af man aldrig mere skulle opleve den følelse af livsfare, og at man havde lagt de militaristiske uvaner bag sig. At vi ikke igen ville få brug for mørklægning for at skjule os for bomber. At luftalarmen aldrig mere ville gå for at advare os mod virkelige farer. At den kun skulle lyde en gang om året for at markere fortidens krig.

Men nu er krigen her igen. Den foregår her og nu i Ukraine. Den går ikke bare væk, og den er allerede blevet lige så brutal som den krig, vi markerer afslutningen på hvert år i maj.

Da jeg talte til jer og til Folketinget på den 34. dag af Ruslands fuldtonede invasion, sagde jeg, at Rusland havde affyret 1.370 missiler. Nu er det 1.993 missiler, der er blevet brugt imod os. Forestil jer, hvor mange liv disse missiler har taget. De fleste af dem har ramt ikke-militære mål.

Den 29. marts sagde jeg, at den russiske besættelsesmagt havde ødelagt 773 uddannelsesinstitutioner i vores land. I dag er det tal fordoblet. Det drejer sig om børnehaver, skoler og universiteter. Det er den slags mål, den russiske hær kæmper imod i Ukraine. Besættelsesmagten har allerede dræbt 220 børn. Vi kender ikke situationen i de besatte områder og ved ikke, hvad der foregår der. Da jeg senest talte til jer, var antallet af dræbte børn 144. I kan se, hvordan antallet stiger. Dengang var det 144 børn, nu er det 220 børn, der er blevet dræbt. De fik slet ikke lov til at opleve, hvad livet er.

Den russiske stat er ikke indstillet på at standse krigen. Den drømmer om at erobre Ukraine og andre europæiske lande. Den drømmer stadig om, at friheden i Europa vil forsvinde. Men de drømme får ikke lov til at gå i opfyldelse. Drømmen om fred vil gå i opfyldelse. Jeres drøm og vores drøm, ligesom det skete for 77 år siden.

Det er lige nu i Ukraine, at fremtiden for vores kontinent afgøres. Hvorvidt ikke bare vi, men også vores naboer, os alle sammen, skal leve i fred.

Ondskaben kender ikke til landegrænser, tyranniet nøjes ikke med at indtage et enkelt land. I hjælper os allerede i vores kamp, og det er vi taknemmelige for. Vi kæmper med våben og med jeres støtte til, at vi kan opnå EU-medlemskab, med jeres ærlighed i spørgsmålet om sanktioner og med den oprigtighed, I viser vores befolkning. Vi ser ukrainske flag vaje på jeres gader og pladser, og det viser, at I er fuldt bevidste om, hvad der foregår. Ingen ved, hvor mange dage denne krig, som den russiske aggression udløste, vil fortsætte, men jeg tror, at vores befrielsesdag nærmer sig.
Ligesom jeg nu taler til jeres befolkning, mens I markerer årsdagen for jeres lands befrielse, tror jeg, at repræsentanter for jeres land en dag vil tale til den ukrainske befolkning, når vi markerer fredens årsdag hos os.
Ligesom hvert år på denne dag tænder I lys for at mindes jeres sejr over ondskaben, og når I gør det i år, vil jeg bede jer sende en tanke til de ukrainske børn, de 220 børn, hvis liv er blevet taget af denne krig. Husk på, at Europa er i stand til at sætte en stopper for det, der kostede disse børn livet. Lad det aldrig mere ske.
Tak til hver og en af jer.
Tak, Danmark.
Ære til Ukraine.
---
How primitive can a Russian President be??????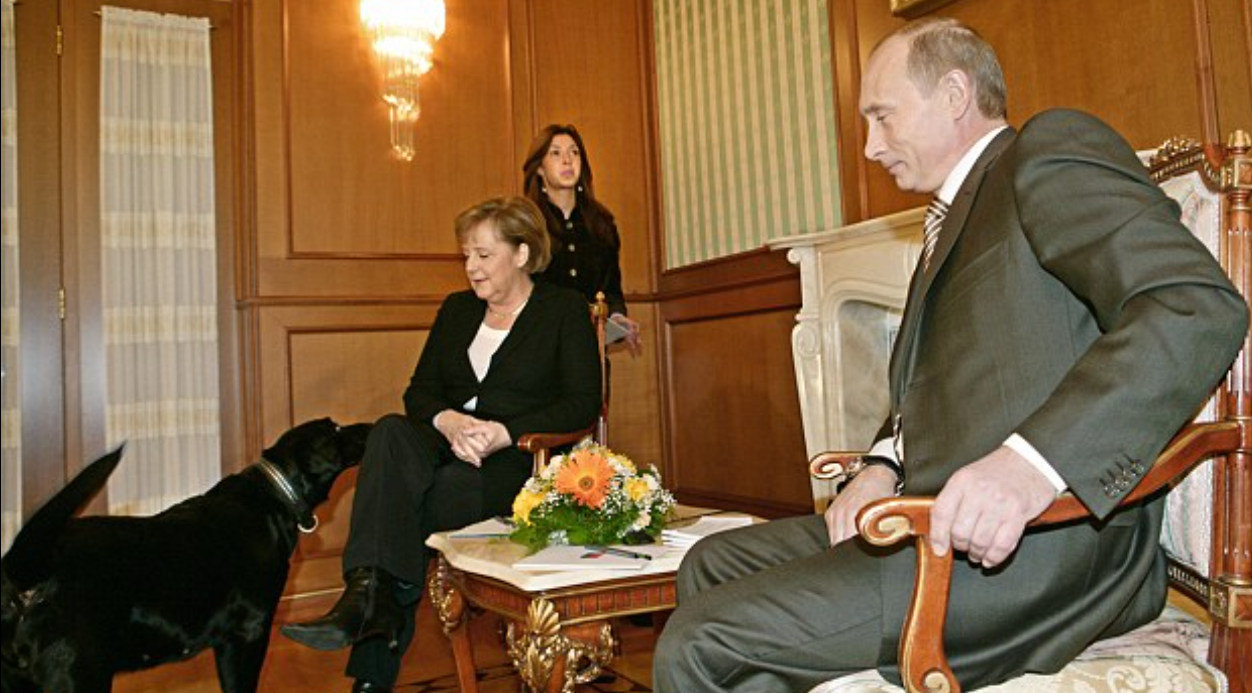 Vladimir Putin: I didn't mean to scare Angela Merkel with my dog
CNN January 12, 2016
Russian President Vladimir Putin has told a German newspaper he did not mean to scare Chancellor Angela Merkel when he brought his pet Labrador in to meet her during an infamous press conference nine years ago.
Merkel, reportedly fearful of dogs since one attacked her in 1995, was photographed looking distinctly uncomfortable when Putin brought his large black Labrador Koni into a meeting at his summer residence in Sochi, Russia, in January 2007.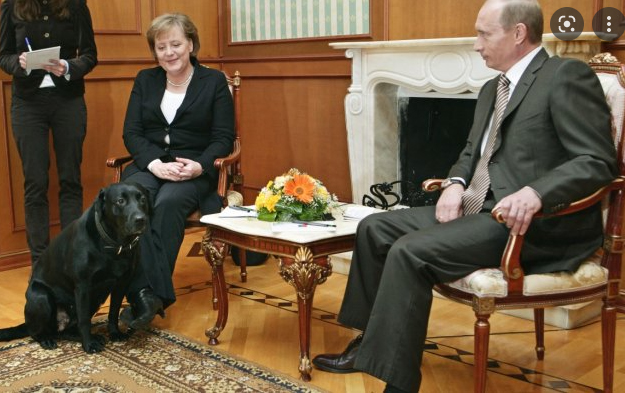 The Russian leader appeared to smirk as he watched his pet approach his uneasy VIP guest.
Now, years on, Putin has told German newspaper Bild he had no intention of intimidating Merkel.
"I wanted to do something nice for her," he told the newspaper, in an interview published Monday.
"When I found out that she doesn't like dogs, of course I apologized."
Putin's treatment of Merkel, in office for less than two years at the time, reportedly rankled the German press corps.
According to a 2014 New Yorker profile of the German leader, Merkel responded to Koni's presence by quipping, in Russian: "It doesn't eat journalists, after all."
The magazine reported she had later told journalists:
I understand why he has to do this – to prove he's a man. …
He's afraid of his own weakness.
Russia has nothing, no successful politics or economy.
All they have is this.
This woman is not stupid – and not at all as stupid as the man!