3.292 km.
07.08.2021 Going to Germany
In the future, when I am driving longer distances in Germany I will ask my GPS to avoid autobahnen. Today we drove from home to Hotel Restaurant Zum Postillion in Soltau – 422 km. – and we spent more than 2½ hours in "staub" (queues/traffic jams). In the area around Hamburg alone we were in a staub for 2 hours!
But here is the town hall in Soltau, and tomorrow we drive to Quedlinburg in Harzen.
There we stay in 2-3 nights and from then I don't know, but probably we go further south.
Btw: I paid hotels.com for the hotel where we are now a couple of days ago, but when we came here they said that they had not received any money, so I had to pay one more time, so now I hope that hotels.com will pay me back.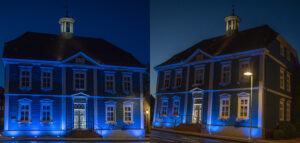 Dogs are very welcome in almost all hotels and restaurants here in Germany, but during the last years hotels have begun to charge you 8-10, even 15 Euro pr. night for what they call "extra cleaning".
I am sure that they do not use 10 Euro for extra cleaning, and most hotels have special rooms for guests with dogs.
And if they really use so much energy after the visit of a dog, why have they not always charged this fee? They need to improve their earnings, and therefor they got this idea to make the dogs contribute to their earnings in in difficult times.
But most of them write on the website that they do not charge for "service dogs", which normally is dogs owned by blind persons.
But I think it is robbery to charge you 10 Euro for your dog, so I have made this letter, which I have forgotten to use until now. But today at Berghotel Sankt Andreasberg in Braunslagen I remembered it, and the receptionist accepted it – and I saved 10 Euro
You are welcome to say, if you think I am immoral
The text says in English:
It is hereby confirmed that Niels Tang Graverholt – born 15.10.1947 – suffers from PTSD (Post-traumatic stress disorder) – and that he is therefore dependent on his dog – Labrador, bitch named Zenta, born 07.06.2014 – to follow him, especially when he is in an environment where there are many people.
Zenta is registered as a therapy dog.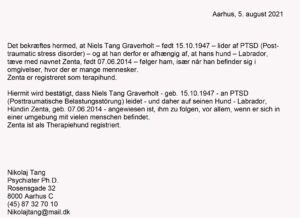 And now we are in Quedlinburg, very old German city with beautiful old houses – going out to look at them now.  From our trip to Quedlinburg:
Walking the streets in Quedlinburg
Later today I visited a very special shop in Hasselfelde where we were also yesterday
And on 11.08 we visited the Grenzmuseum Sorge
Dresden