02-17.09.2023 USA
Still working on it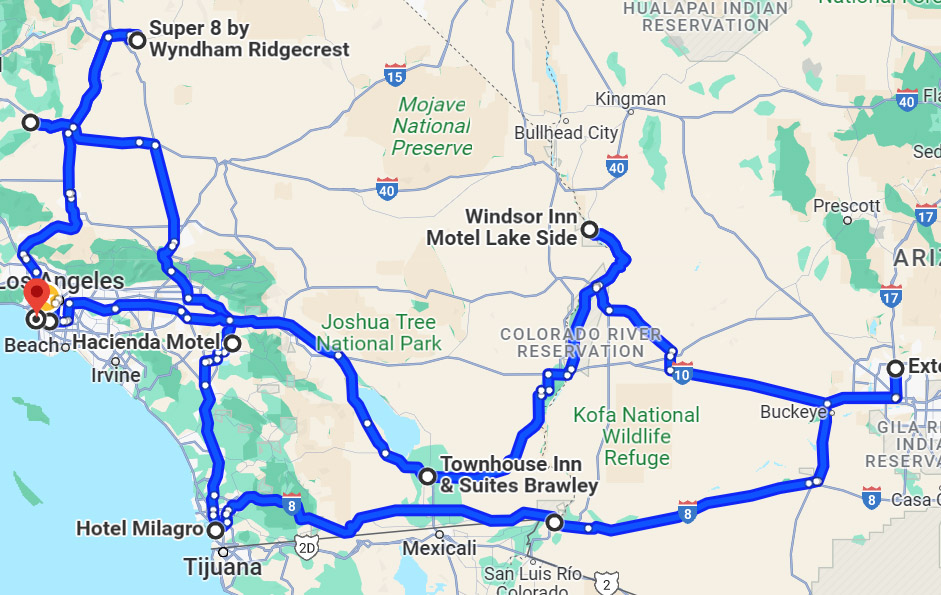 Los Angeles
Ridgecrest
Tehachapi
San Jacinto
Chula Vista
Yuma, AZ
Deer Valley, Phoenix
Lake Havasu City
Brawley
Los Angeles Intl Airport
---
I drove around 3.619 km. in 15 days in this wonderful 2022 Mustang

---


First night in Los Angeles
---
Talked with some homeless people in the street. A woman told that she had adopted a young transvestite, because it was dangerous for him to live in the streets. She also told that the police told them to

place their tents right out by the curb because the the cars will hit them if they stray.




She wanted me to buy them a gallon of drinking water, so I went into a convenience store and bought them 2.


She didn't say thank you.

---
And the diametric opposite: Rodeo Drive in LA is probably the most expensive street in the world
Randsburg, an old mining town about 4 hours north of LA
They still find gold from time to time in Randsburg
Rodeo in Banning, California, 08-09 September 2023
The different rodeo events
| | |
| --- | --- |
| | |
| | |
Tie down roping

Barrel racing, love it, it's so beautiful
Flying glider in Tehachapi
---
Freight train with 2 locomotives at the front and 2 at the end and 123 train cars –
east of the northern tip of the Salton Sea, 3 hours southeast of LA