My room
I don't think I will ever become tired of taking pictures on Praça do Comércio
Belém
Fado, Retiro dos Sentidos, Rua Diário Notícias 40-A. Web – click
The Zoo
Met this beautiful girl outside the Zoo
Museu do Aljube – Resistência e Liberdade
The other day I visited Museu do Aljube – Resistência e Liberdade, which tells the story about the terrible oppression, torture and persecution during the dictatorship of António de Oliveira Salazar 1926 and until 25. april 1974, when the socalled Carnation Revolution (Nellikeevolutionen) liberated Portugal.
This museum is really worth visiting. It lies at the lower end of Alfama, and tram 28 stops right in front of it.
As you can see on the last picture here is one more example of how the American CIA supported a fascist dictatorship – I do not have figures on how many countries this has happened in.
Portraits
Belém
Pictures from the street and the trams
Museu do Combatente
Sailing on The Tagus River
Museu do MAAT
Feira da Ladra – just the usual shit
13.07.2021 People in the street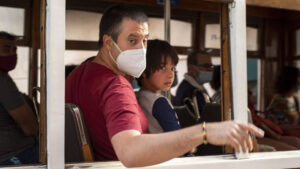 I have said for many years that the Portuguese and Cubans are the nicest people in the world. But today I met a Portuguese exception. I got on Tram 28 at Praça do Comércio and all the seats were occupied. But there sat a father with a 3-4 year old son, and on the seat behind him sat a 6-7-8 year old big brother. I was dead tired and had pains in my legs, so I asked the boy to leave the seat to me.I should never have done that.The father jumped up and tried to sit on the seat, but I got in before him, so he sat on my lap.Then he got up and hit me 3 times in the head so my cap flew a few meters back in the tram.There were 12-15 passengers + the driver in the tram, and no one showed signs to come to my aid – except that someone kicked my cap towards me.I did not dare to get off at the same place as the idiot, so I suddenly jumped off and took a picture of him. The next tram paused at the dog enclosure so I went there and talked to all the dogs and their owners.I told about my experiences to 2 of the dog owners and showed them the pictures – and one of them told that he had also had an argument with the person in question a few days ago.