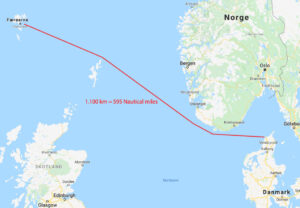 The boat travels from Hirtshals to Torshavn Saturday 15.00 – Monday 06.00 – 36 hours.
Taken around 22. It is the lights at a highway that runs a west-east at the southern coast of norway at Egersund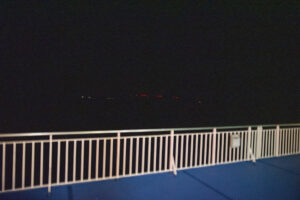 GOOD MORNING. I brought Yahya Hassans new poetry collection. Hope I will find the time to read it.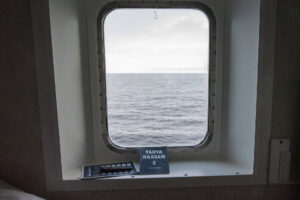 Yesterday I said in the reception that I am writing on an article to different newspapers about the Faroe Island and the trip to there and would like to take some pictures at the bridge. They would ask the captain and the message came back that it would be possible the following day at 13.00!!! So here it comes.
Click on the small pictures to see them in big size and use the arrow in the right side to move to the next picture

Passed the Shetland islands at 15 this afternoon

I got up at 6 at the ferry and drove to Hvannasund, 86 km. and arrived just in time to get the post boad that sailed to Svinoy and Fugloy, only 20-30 minutes. It just lies a few centimeters from the little primitive quay while people get aboard, get onto land or the mail sck is thrown aland. On my way back to Hvannasund I spoke with a vet, who controls the salmon farms that are situated in the inlets. He went to Svinoy to control a consignment of lumpfish (I think it was) coming from Iceland. They shall live together with the salmons, whom they will free of some disturbing lices.
But the consignment had not arrived but will not come until tomorrow, so he will be back then. I had an interesting talk with him about the salmon culture, and I think I will be beack tomorrow to make an interview with him.
The boat leaves from Hvannasund atd 8.45 again and will be back at 15 in the afternoon. There are only 5-6 inhabitant at the small island, and maybe I can get some interviews with them also.
But here follows some of the pictures I took today
After that I drove to Viðareiði and visited the small school there. I got an interview with one of the teachers and with two of the kids.
One of the teaches father was called as a witness after the Klaksvik conflict in the 50's and I persuaded her to call him and ask if he would give an interview about that. but he would not. Instead he gave me the name of another man who lives in Torshavn. I called him and we made an appointment for Wednesday.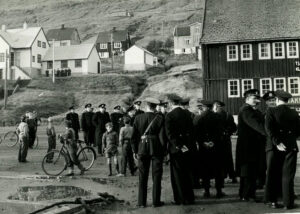 This morning I got up 6.30 and drove to Hvannasund to meet with the vet and sail to Fugloy and Svinoy.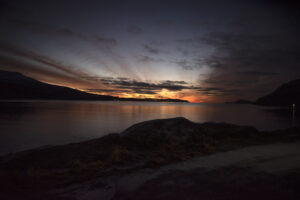 But when I arrived the post boat guy told me that the vet had cancelled and would come tomorrow instead! But now that I was there I took the trip with the post boat and chatted with the captain and the helper. Very nice.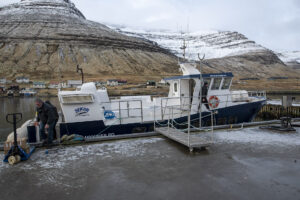 Jósup lying in the harbour in Hvannasund.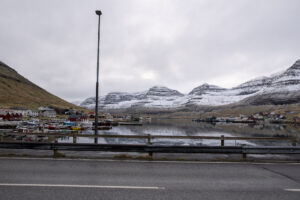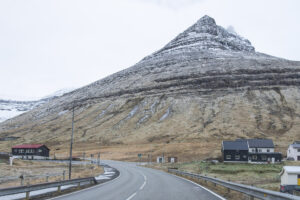 The traffic light in Hvannasund. I have never seen a car in the crossing.
And here follows a gallery from today
Up at 6.30 again today and at full speed toward Hvannasund. Today, the vet Peter Østergaard showed up and we sailed toward Svinoy on Jósup. Only 15 minutes and we were there. Visited the place where they grow lumpfish (stenbidere) that are dropped in the salmon cages where they eat the lice off the salmon. Peter was there to check the shipment of lumpfish from Iceland. Sjurdur, the manager of the plant, called Heri Joensen, who is a priest in Torshavn, but lives some of his time in his parents house on Svinoy – and has 70-80 sheep.
I met with them and made an interview about his chidhood on Svinoy where he lived till he was 14 at which time he moved to his grandparents in Torshavn and went to school there.
We took the post boat back to Hvannasund at 15.30 and I drobe back to Torshavn. Arnstein Niclasen came at 6 to give an interview about the Klaksvik affair. Great story! I love the way the people from Klaksvik told the danes to fuck off.
There was a letter in the reception from Annfinnur. He had not seen my note on his dining table until today. I was too tired to meet with him today, but we made an appointment for tomorrow when I go to visit him at his place. Really looking forward to seeing him after 30 years 🙂
And here comes a gallery from Svinoy:
I went up to Annfinnur yesterday morning, and it was really great to meet him after 30 years or so. Within 2 minutes we were talking together as we did in the good old days at the college many years ago. I stayed there until late in the afternoon when he had a dinner appointment. But we decided to keep in contact on the Skype. That was really great.
And goodbye Faroe Islands. It's been a pleasure to meet you, hope to be back again soon.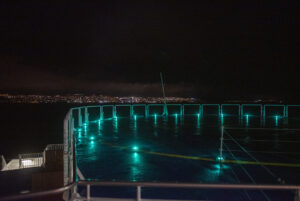 The captain, Petur av Vollanum, accepted that I visited the bridge to make a recorded interview with him. Really nice guy and nice interview.