Terrible travel
Left home 3.30 and drove to Aalborg Airport. Waited 1 hour. 1½ hour to Amsterdam with little space for my legs. 4 hours in Amsterdam, falling asleep all the time. Several attempts to connect to Internet, and when I succeeded, my battery was flat – and airports do NOT provide outlets, or they hide them he best they can.
TERRIBLE flight to Panama City!
11 hours!
Thought I had got a good seat at the emergency exit with lot of space to my legs. There was good space, but no window and what seemed to be a very narrow seat – difficult to explain. So as soon as I closed my eyes I got a strong claustrophobia, and I HAD to close my eyes and sleep, but then came that claustrophobia. So most of the time I was watching the screen with info like: Time left to Panama City, altitude (12.000 meters most of the time), velocity over ground, temperature outside, actual time in Amsterdam, actual time in Panama City etc.
Like watching paint drying.
When we were eating dinner I got a splendid idea: Collect all the used eating utensils from my co-passengers and put them in a plastic bag and give them to a poor old woman in Havana, so she can sit on a pavement and sell them. The eating tools in KLM are plastic of course, but they look very much like metal, not bad at all – and in Havanna you sell just about everything 🙂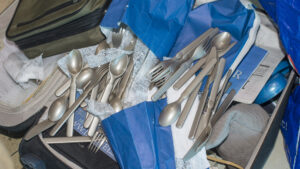 4 hours in Panama City. Good food and juice and coffe. But impossible to connect to the internet unless you pay for it – and you must search at least ½ hour for an outlet to charge your computer.
2½ terrible hours with no leg space to Havana.
But NO problems getting through the airport. Nice people and fast procedures.
The trip to Cuba
When I came out, someone shouted "NIELS" – nice guy with a sign with my name, He had a booking for a taxi to take me into town. Nice driver, actually an engineer who spoke very good English, but the taxi job pays off better than the job as an engineer.
I stayed here in Old Havana, very close to everything. The price was 40 CUC, about 35 Euro for a one room apartment on first floor with private bathroom, kitchen, Wifi, tv and a small balcony. Real good place.
I plan to take a LOT of pictures of people here, and I would like to visit some not privileged neighborhoods. Fount one on the net – el fanguito where I would like to go. Asked the driver where it is. He laughed and said "there are many el fanguito neighborhoods. Fanguito means mud"!!!!!
We made and agreement that one day I can ask the owner here to call him on the phone so he will come here an take med to a "el fanguito" (10 km) and come back for me after 3-4 hours.
I stay in the same neighborhood like last time here. Very nice place with hundreds of yelling people, barking dogs and houses falling apart.
Hungry when I had moved in and went out to look for a restaurant. Found one 200 meters from here but they were closing (it was 12, midnight). But the owner and his wife felt sorry for me, so he made a steak of pork with rice and everything. Good.
Then I found out that I had forgot to bring my money, and asked if I could come back with them today. They looked little skeptical although we had had a very nice and friendly conversation – but they could only accept.
Went home and passed out on the bed. Slept 10 hours.
Edited my pictures. Took a nice shower with HOT water! People are yelling in the street outside. The dogs are barking. Sometimes it smells food. This is HAVANA and I love it. The landlord came and picked up the rent and gave me my passport. The sun is almost shining – and I am going out to find something to eat and a hotel with internet and an old poor lady who wants my eating spoons 🙂
C YA
The cubans are very joyful and extremely friendly.
I experienced only one example of trying to cheat me, a guy tried to sell me CUCs at a fantasy rate, and noone tried to steal from me.
But of course the taxi drivers tried to cheat me – name a country where taxi drivers do not cheat, but noone succeeded to cheat me.
Cuba has an extremely low crime rate, and I walked the streets with almost no lights in the middle of the night and felt completely secure.
I saw only a few policemen.
The prices are not especially low, apart from taxi and a few other things.
I can really recommend to go to Cuba,
My home in Havana
Every afternoon a group of men gather on Parque Central, a big square in the centre of Havana, where they discuss baseball VERY eagerly
Train museum in  Havana
Pictures from the street
My favourite bar, El Dandy at Teniente Rey
Cuban portraits
Cuban cars
Preacher or baseball expert?